Handy dental whiteners have become increasingly popular in recent years as people strive to achieve a brighter, whiter smile. These portable teeth whitening products are convenient and easy to use, making it possible to maintain a whiter smile even when you're on the go.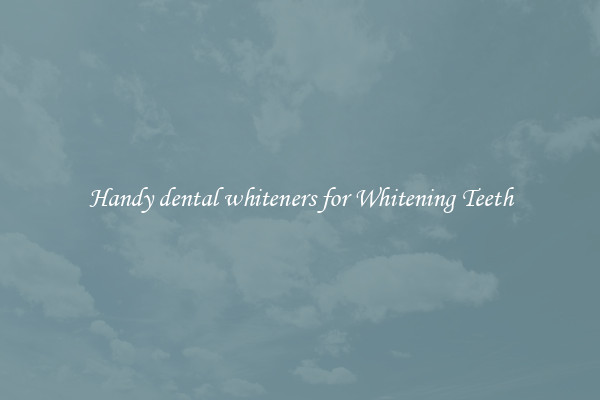 One of the most common types of handy dental whiteners is the whitening pen. These pens typically contain a whitening gel that is applied directly to the teeth using a brush tip. The gel is then left on for a specified period of time, usually around 10-20 minutes, before being rinsed off. Whitening pens are portable and discreet, making them a popular choice for individuals who are always on the move.
Another popular option for handy dental whiteners is whitening strips. These thin, flexible strips are coated with a whitening gel and are placed directly onto the teeth. The strips are left on for a specified amount of time, usually around 30 minutes, before being removed. Whitening strips are ideal for individuals who want a convenient and mess-free solution for whitening their teeth.
In addition to pens and strips, there are also other portable teeth whitening options available. Whitening trays, for example, are custom-made trays that are filled with a whitening gel. These trays are worn over the teeth for a specified period of time, allowing the gel to penetrate and whiten the teeth. While trays may not be as portable as pens or strips, they are still a handy option for individuals who want to whiten their teeth at their own convenience.
Handy dental whiteners are popular for a reason – they offer a convenient solution for individuals who want to achieve a whiter smile without having to make an appointment with their dentist. While these products can be effective, it's important to use them correctly and follow the instructions provided. Overusing or misusing these products can lead to tooth sensitivity or damage to the enamel.
It's also important to note that while handy dental whiteners can help to remove surface stains and brighten the teeth, they may not be as effective for more serious stains or discoloration. In these cases, it may be best to consult with your dentist for professional whitening treatments.
In conclusion, handy dental whiteners offer a convenient and easy way to achieve a brighter, whiter smile. From whitening pens to strips and trays, there are options available for individuals of all lifestyles. However, it's important to use these products correctly and understand their limitations. If you're unsure about which handy dental whitener is right for you, it's always best to consult with your dentist for personalized advice and recommendations.